Make sure to increase your sales, leads and awareness by taking full advantage of the show and our many traffic drivers. As things get a little tougher these days we all need to work a little harder. One way to do so is stand out from your competition. We have a few options to help out!

Stand out from the competition and increase your presence on the show floor with our surprisingly affordable marketing options. Book an advertisement in our show guide, or opt for placement in an e-blast or web banner to highlight your company before the show even begins.
MEDIA PROMOTIONS
Get paired up with one of our media partners for the show and give away a prize valued between $2,500 and $10,000 with extra exposure!

Prize partners will receive:
Media exposure with paired media partner
Contest listed on BCHGS contest page of show website
Logo included on show guide and addendum floor plans
Ballot box with contest signage at your booth
Printed ballots for contest entry
List of opt ins from the contest one month after event
50 complimentary tickets
Email Zoe your Hi-Res Logo to be featured on the Big Screen!
Deadline: January 31st
(1920 x 1080 pixels - .jpg & .png preferred)

Official Show Guide - Drive traffic to your booth with an ad in the Show Guide!
Booking deadline: January 16th
2020 BCHGS Guest Pass Order Form - 50% Off Tickets! Send your clients, prospects and friends tickets to show and have them meet you down there.
Deadline for mailing: February 7th

2020 BCHGS Contest Form - Contests are a great way to drive attendees to your booth! Fill out the form for approval.

Stage Presentations - Want to get on stage and present? Email Tyson about the opportunity.
Web Button
Increase traffic to your website with our free online button linking your customers to discount tickets to the show. Let us know when you post our web button on your site and we'll send you 10 free tickets to the show.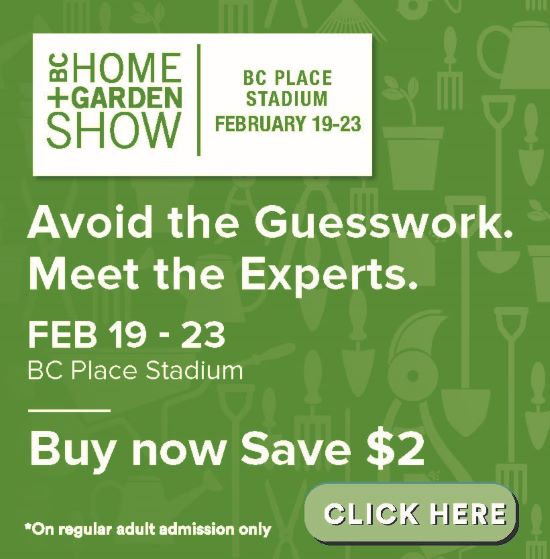 Here's how to post the web button on your site:

1. Right click and save above jpeg on your PC.
2. Load onto your website.
3. Hyperlink the button to our website: www.vancouverhomeshows.com
4. Email zoew@mpeshows.com the link to your site so she can send you your tickets!

(Mailing of tickets stops on Feb 7th - after which you can pick them up at the Exhibitor's Help Desk at BC Place located in the East Airlock)
SOCIAL MEDIA CHEAT SHEET
Do you want to post on your social media before and during the show? Take a look at our cheat sheet for, hashtags, social handles and helpful show information!

Coming soon